Investment opportunities
Know the companies that are already available in Uper

All companies have been rigorously validated in a process of
Legal and Financial Due Diligence
How does it work?
If you want to invest
1
Indicate the amount you want to invest in the project of your choice.
2
Transfer funds to your wallet at Uper.
3
Complete some information to deliver your digital contract instantly.
4
You are ready, now follow the news of the project in which you invested.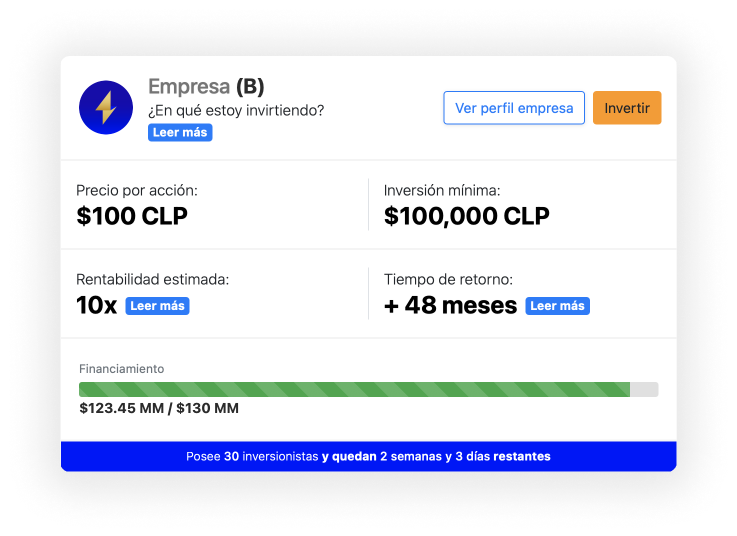 If you want to raise capital
1
Register and review the commercial proposal we have for you.
Still not ready to raise capital? Test
creating your profile here
and see how many of your followers are willing to invest in your project.
2
Complete the necessary documents to check your status.
3
Create your company profile and show your project to the world.
4
Start raising capital and meet your goals.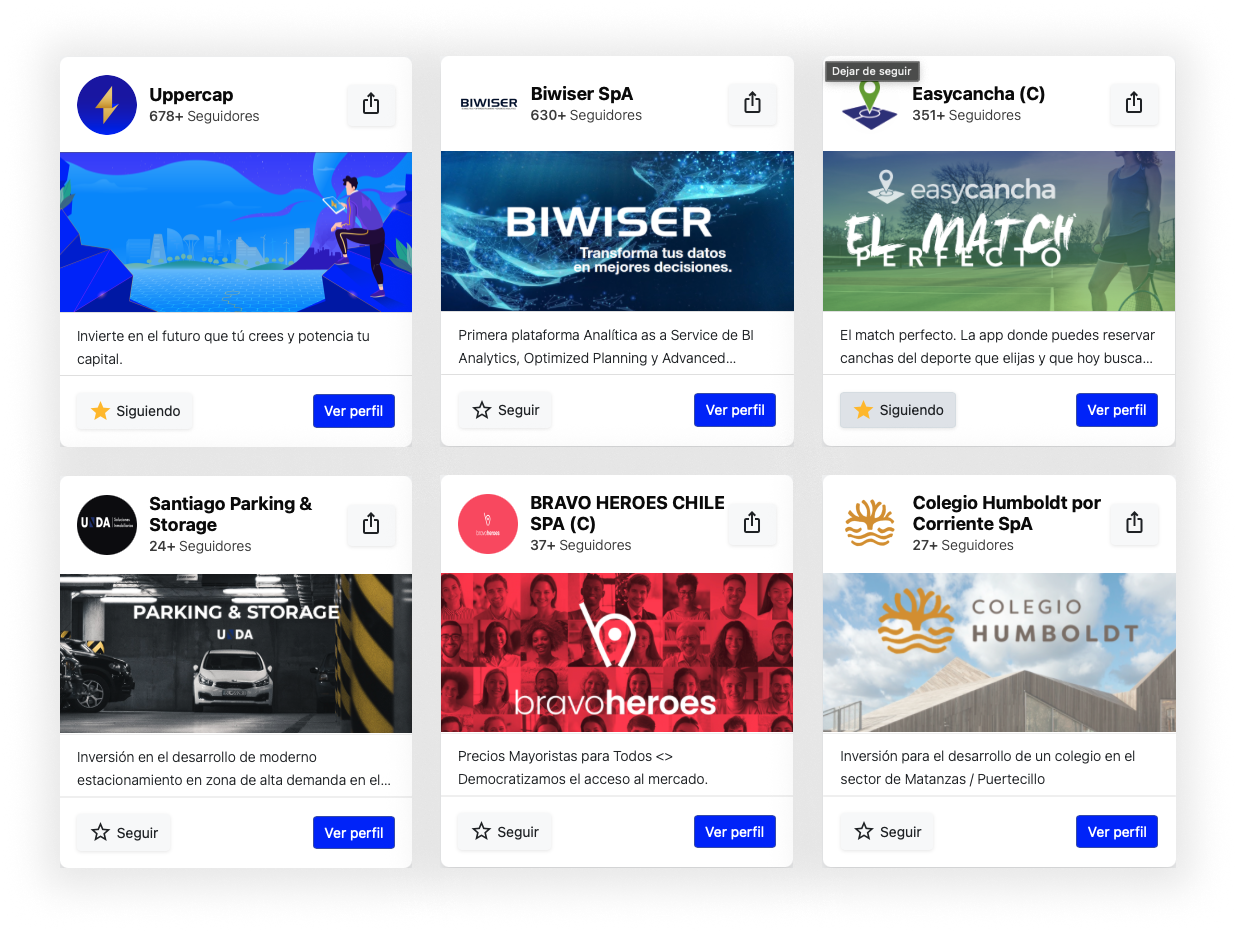 Products and solutions
Get started for free and take your business to the next level with Uper products and solutions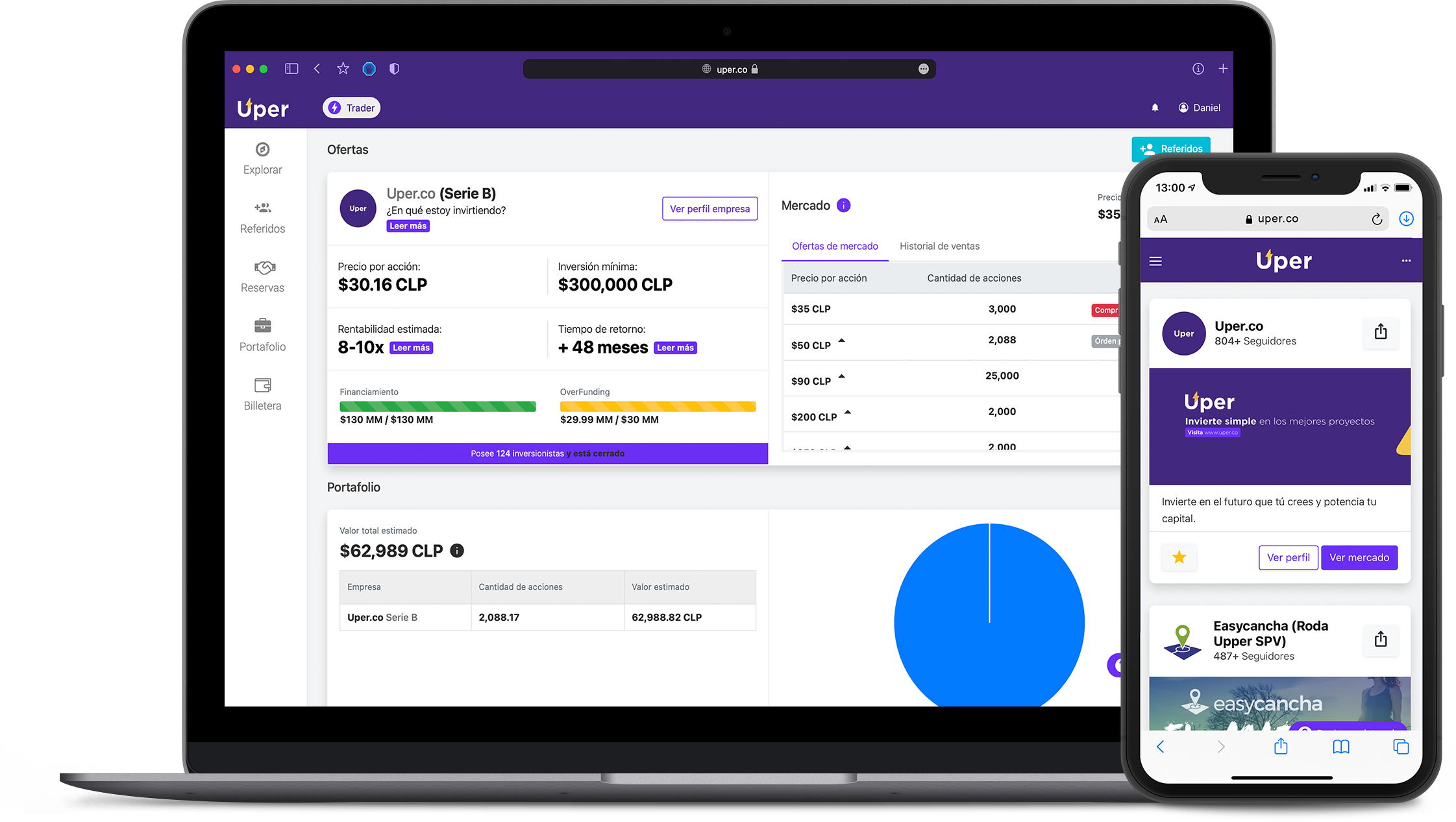 We simplify the complex, so you can make the best decisions.
Security
Friendly interface
100% digital procedures
Instant contracts
Multiple payment methods
Partners
Invest accompanied by a support network with great experience
Frequently Asked Questions
What is Uper?

Uper is a platform that allows you to invest in selected companies in a simple, 100% digital and Blockchain-backed way. How to
register
in Uper?
How do we select companies?

We review the companies and meet their teams to evaluate the business. We occupy a FPTM model (Founders, Product, Traction, Mission.)
See more
Why invest in companies or projects?

For many, taking the option of saving instead of investing is a reasonable and safe decision. This is for those who the risk of losing is not an option, and with the savings apparently it is not lost. The latter is "apparent", since many savings alternatives lose value over time and their opportunity cost can be high.
See more
Newsletter
Do not miss out on anything!
You will receive notices of news and new companies in Uper.