Contamos con más de $6.600 millones invertidos en 25 rondas y una comunidad de más de 1.100 inversionistas.
How does it work?
¿Por qué es mejor con Uper?
Conoce los mejores proyectos:
Recibe información actualizada sobre las rondas de inversión y el avance de las empresas.
Invierte de forma simple:
Invierte con unos cuantos clics y obtén tu contrato al instante.
Vende y administra tu Inversión:
De manera sencilla y transparente, podrás visualizar tus inversiones, tus contratos y también, vender tus acciones a otros miembros de la comunidad.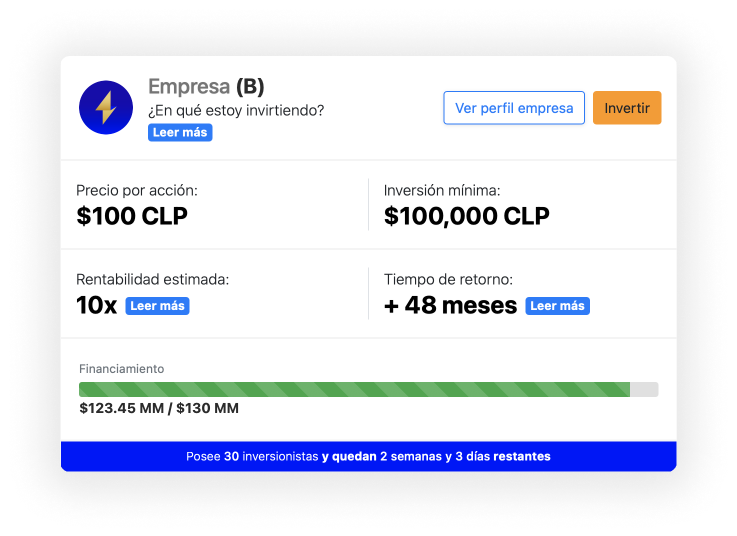 Lleva tu ronda de inversión al siguiente nivel: Postula con Uper
Hacemos la inversión en tu ronda hasta 10X más eficiente.
Conéctate con un nuevo mercado de inversionistas.
Fideliza a tus clientes y comunidad.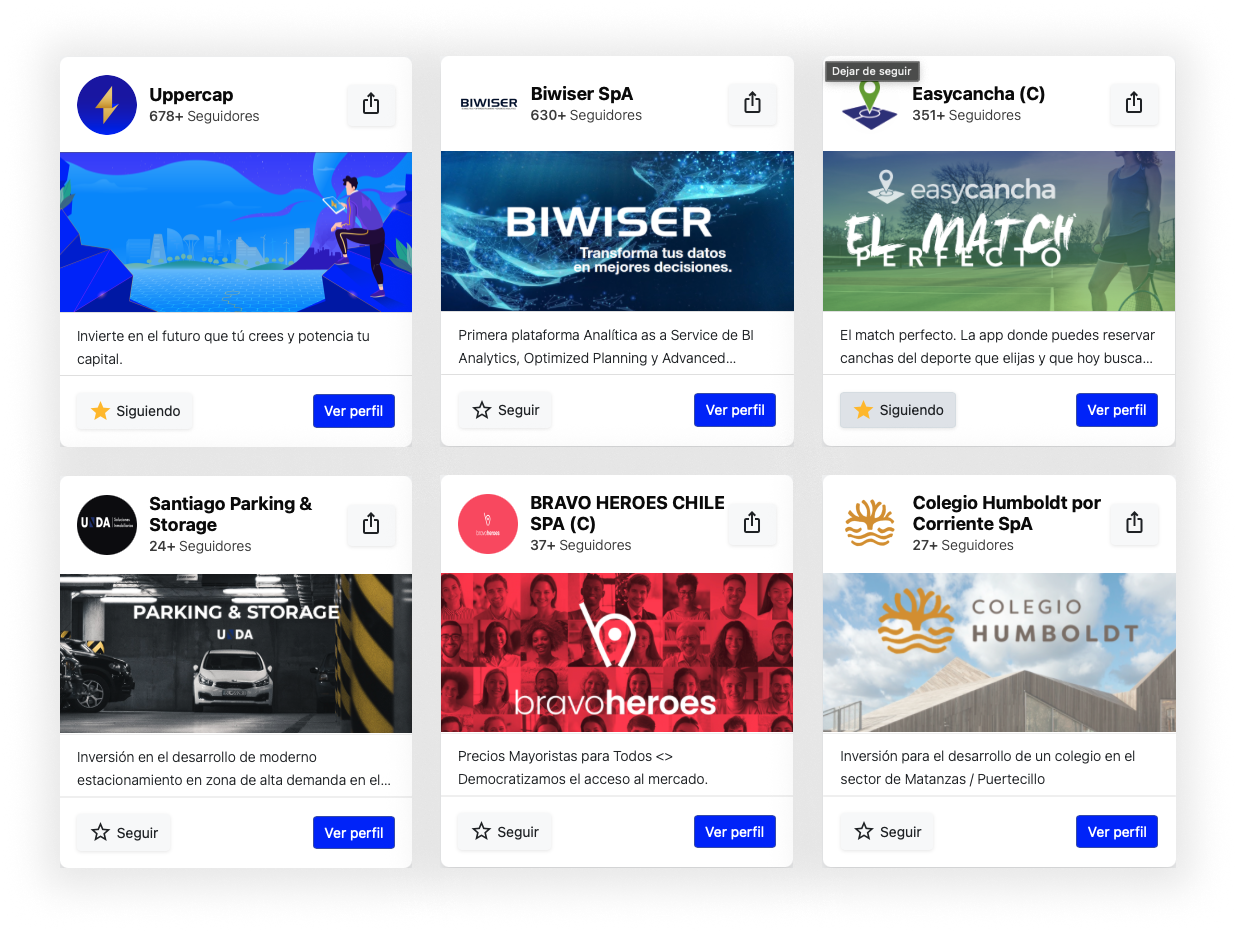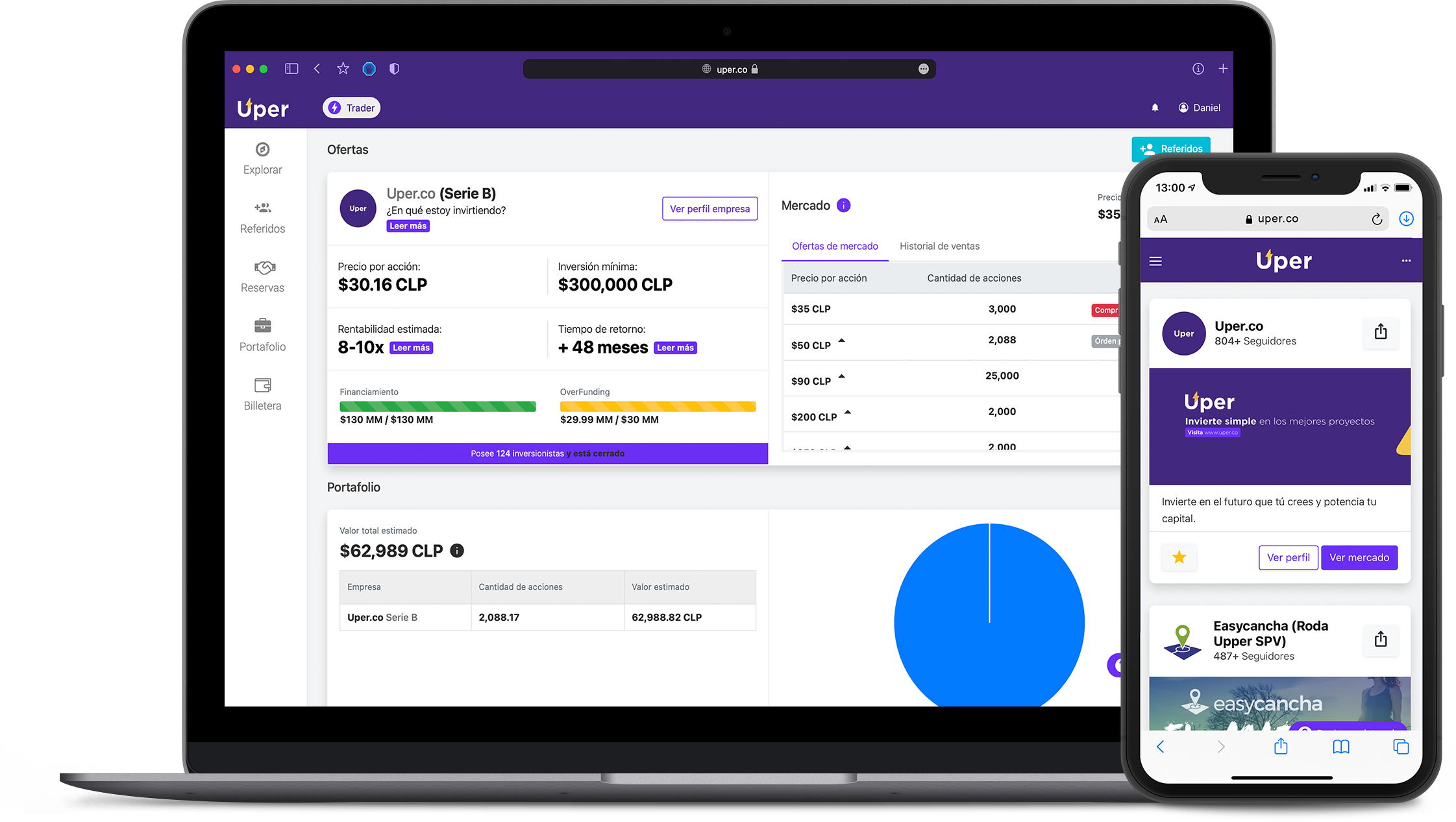 Simplificamos lo complejo para que puedas invertir en las mejores empresas.
Security
Friendly interface
100% digital procedures
Instant contracts
Multiple payment methods
Alianzas
Trabajamos con una red de servicios e instituciones al servicio del ecosistema.
Frequently Asked Questions
What is Uper?

Uper is a platform that allows you to invest in selected companies in a simple, 100% digital and Blockchain-backed way. How to
register
in Uper?
How do we select companies?

We review the companies and meet their teams to evaluate the business. We occupy a FPTM model (Founders, Product, Traction, Mission.)
See more
Why invest in companies or projects?

For many, taking the option of saving instead of investing is a reasonable and safe decision. This is for those who the risk of losing is not an option, and with the savings apparently it is not lost. The latter is "apparent", since many savings alternatives lose value over time and their opportunity cost can be high.
See more
¡Súmate a la comunidad!
Inicia tu cuenta sin costo y recibirás avisos de novedades, beneficios y proyectos en Uper.