How does it work?
Si deseas invertir
1
Indica el monto que deseas invertir en el proyecto de tu preferencia.
2
Transfiere fondos a tu billetera en Uper.
3
Completa unos datos para entregarte tu contrato digital al instante.
4
Estás listo, ahora sigue las noticias del proyecto en que invertiste.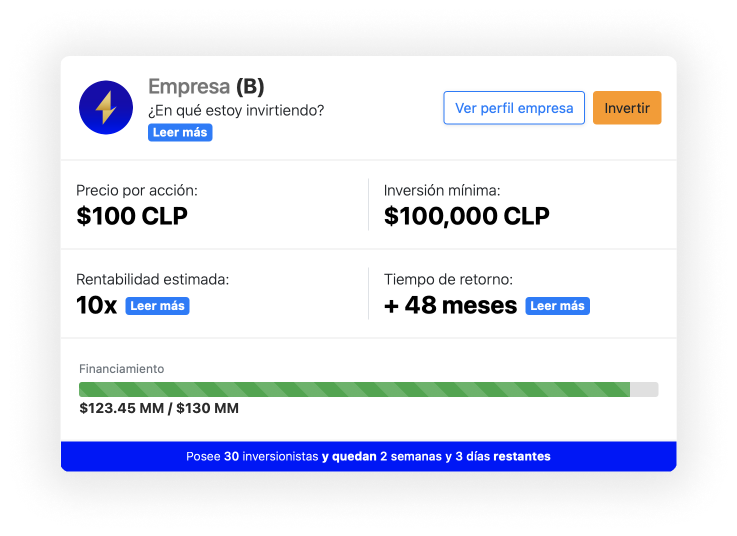 Si deseas levantar capital
1
Regístrate y revisa la propuesta comercial que tenemos para ti.
¿Aún no estás listo para levantar capital? Prueba
creando tu perfil aquí
y ve cuántos de tus seguidores están dispuestos a invertir en tu prioyecto.
2
Completa los documentos necesarios para comprobar tu estado.
3
Crea tu perfil empresa y muestra tu proyecto al mundo.
4
Empieza a levantar capital y cumple tus metas.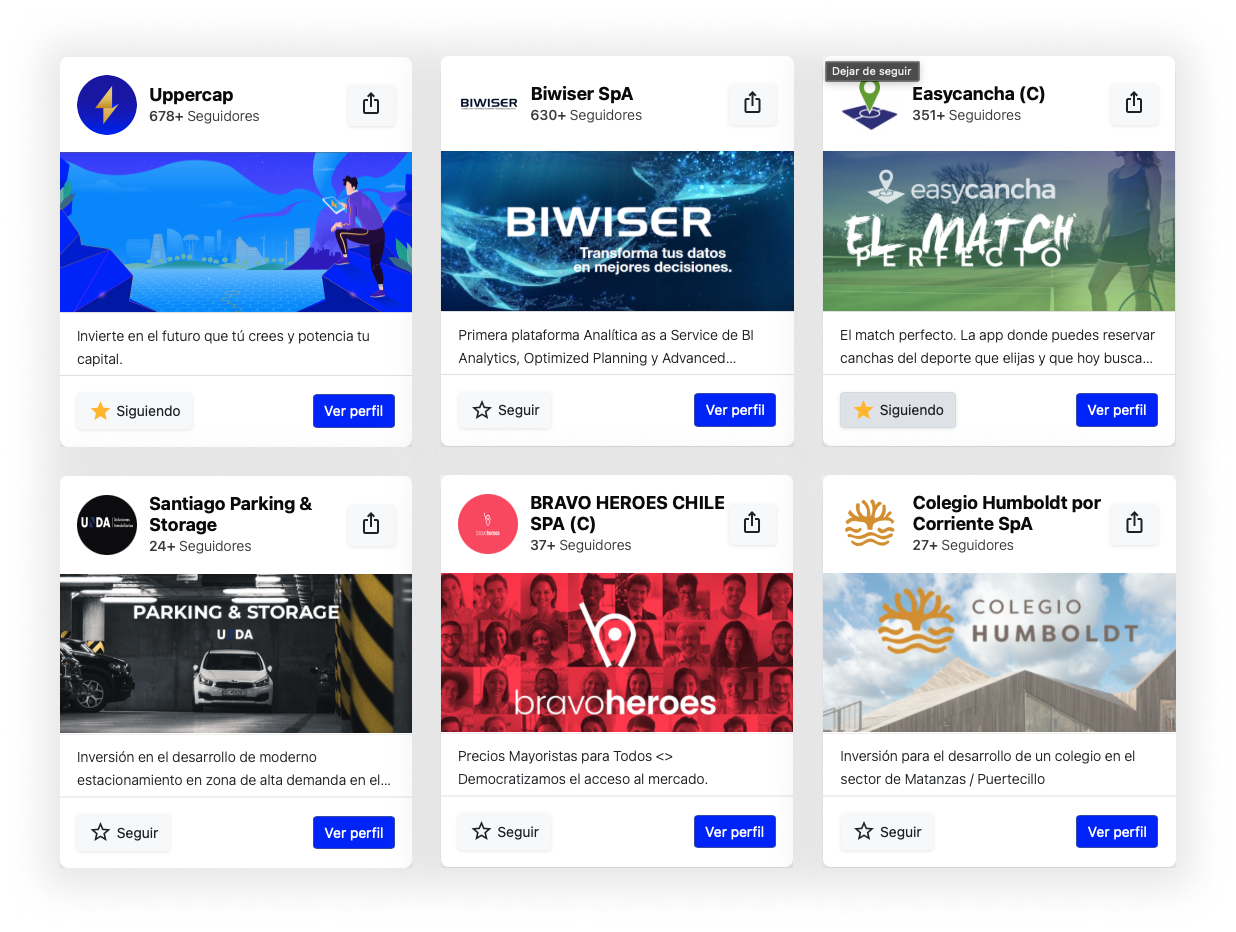 Investment opportunities
Conoce las empresas que ya están disponibles en Uper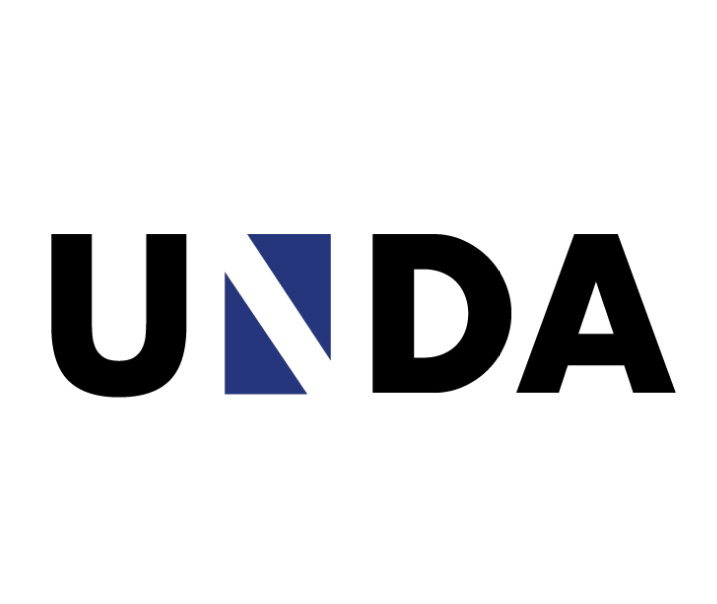 Santiago Parking Storage
Investment in the development of modern parking in a high demand area in the heart of Santiago.
Real state
Why invest in startups? Read more

All companies have been rigorously validated in a process of
Legal and Financial Due Diligence
Productos y soluciones
Empieza de manera gratuita y lleva tu empresa al siguiente nivel con los productos y soluciones de Uper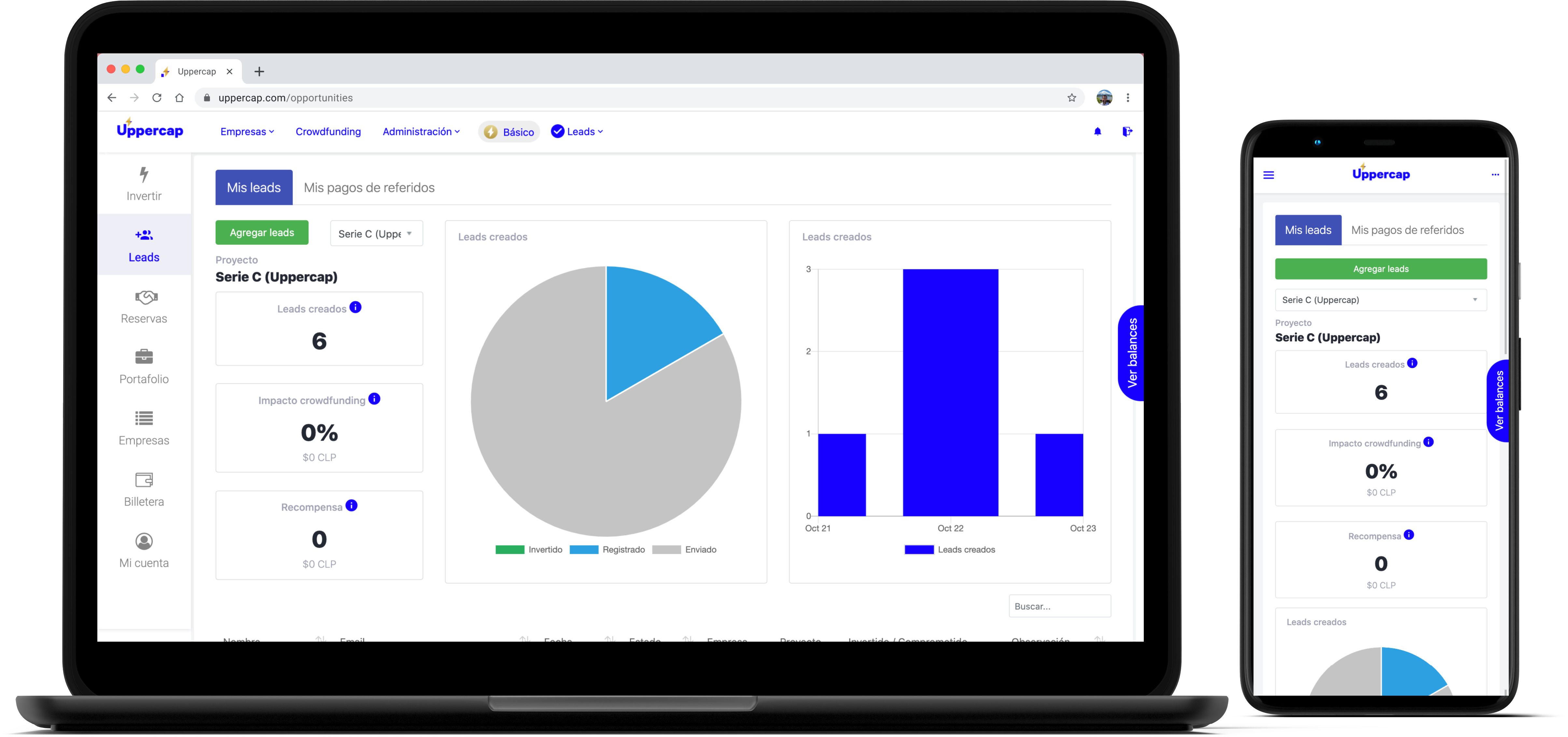 We simplify the complex, so you can make the best decisions.
Security
Friendly interface
100% digital procedures
Instant contracts
Multiple payment methods
Partners
Invest accompanied by a support network with great experience
Frequently Asked Questions
¿Qué es Uper?

Uper es una plataforma que te permite invertir en empresas seleccionadas de forma simple, 100% digital y respaldada en Blockchain. ¿Como
register
en Uper?
How do we select companies?

We review the companies and meet their teams to evaluate the business. We occupy a FPTM model (Founders, Product, Traction, Mission.)
See more
Why invest in companies or projects?

For many, taking the option of saving instead of investing is a reasonable and safe decision. This is for those who the risk of losing is not an option, and with the savings apparently it is not lost. The latter is "apparent", since many savings alternatives lose value over time and their opportunity cost can be high.
See more
Newsletter
Do not miss out on anything!
Recibirás avisos de novedades y nuevas empresas en Uper.